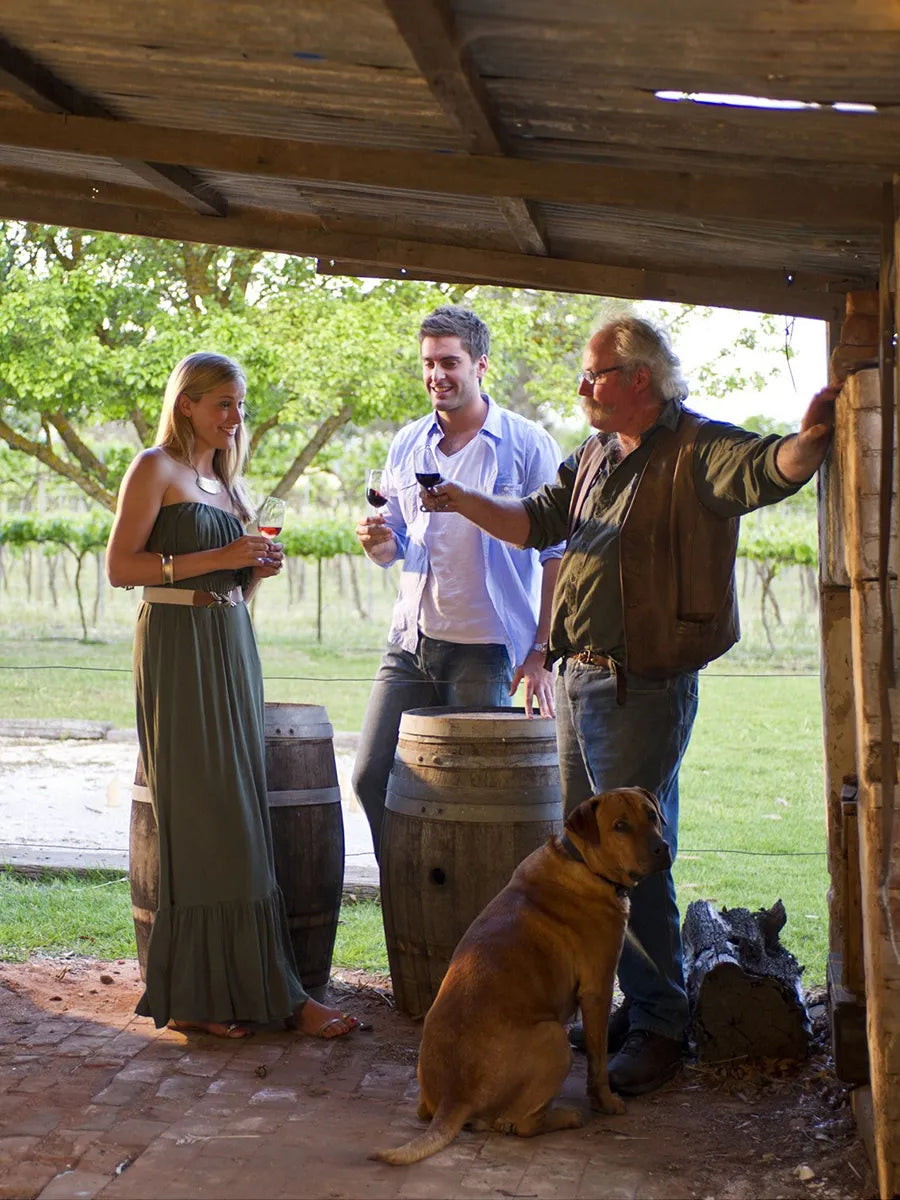 GIBSON WINES
Cellar Door
Gibson is a little off the main tourism routes, at the Northern end of the Barossa. Our local hamlet of Light Pass is spotted with towering gum trees, patchworks of old vine vineyard and sentinel Lutheran churches.
Fellow small, passionate Barossa producers are close by. We're right around the corner from Tomfoolery and Willows Vineyard and a stone's throw to one of the Barossa's best destination pubs – The Stockwell Hotel. We recommend you plan your Barossa visit from the North and to start at the top – literally.
Gibson always welcomes drop in visitors – it's part of who we are. So feel free to stop in, even if you haven't booked, or if your plans in the Barossa don't quite go to schedule. If you'd prefer to book ahead, you're welcome to do so via phone or the link below.
Book a tasting
The Gibson Cellar Door was first opened in 2003.
Inside is suited to seated tastings, with a small number of high bars and table facilities.
The Cellar Door overlooks a vine-shaded veranda and a paved alfresco, both offering seating options in appropriate weather. A generous lawned area, bordered by our Merlot and Cabernet vineyards, provides further space to relax and unwind.
We love nothing more than bringing people together with live music and pop-up food events. Our Sunday Funday experiences have become renowned locally as family friendly gatherings, where we celebrate good times, good living and the good life.
More experiences you might like
Gibson Wines
Contact details
190 Willows Rd
Light Pass
SA 5355
(08) 8562 4224


sales@gibsonwines.com.au


Opening hours
Monday – 11:00am – 5:00pm
Tuesday – 11:00am – 5:00pm
Wednesday – 11:00am – 5:00pm
Thursday – 11:00am – 5:00pm
Friday-11:00am – 5:00pm
Saturday – 11:00am – 5:00pm
Saturday – 11:00am – 5:00pm


Closed New Years Day, Good Friday, Christmas Day and Boxing Day